About Me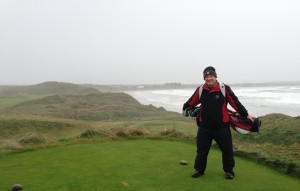 Hello, I'm Ed Britton, PGA of America Master Golf Professional, and welcome to my evolving web site that can help everyone play golf. I've been teaching ever since I graduated from college with a degree in education. Not necessarily teaching pupils in school (only substituted a few months), but through twenty years as a United States Air Force pilot teaching everything from helicopters to the F-16 Fighting Falcon.
After hanging up my pilot boots I went full time into golf shoes; that was in 1991. Since then I've had the great fortune to teach the game of golf and learn from some of the best. I enjoy studying the game and continuing my learning process; in that light I will use this website to pass on short and direct ideas, tips, questions, references, and maybe a joke or two. Starting in 2023 I will focus solely on my new PuttSchool. I promise what we learn from putting will carry over to the entire game; maybe life also!
My flying experience has given me the opportunity to teach both in Europe and the United States. Arizona is where I call home. I invite you to participate in what I hope will create a lasting relationship on a path to a better game of golf for all of us.